Viewing Reports
Baseball Statbook comes with numerous built-in reports but this is by no means a comprehensive list. An endless number of combinations can be made and this is the where the real power of Statbook comes into play.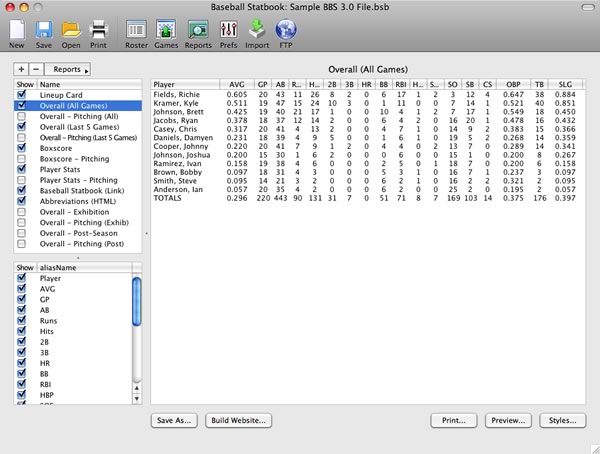 Sample Reports window
A few quick notes on Reports:
Report and Field Order... Use the select and drag method to order the reports and/or fields from the two lists on the left-hand side of the window.
Custom Sort of a Report ... All reports can be sorted by clicking on any header field of the report. Some sorts are numeric, some alphanumeric and some are sorted by date. Baseball Statbook remembers the last column which is clicked.
Output... You can print, Save As Text (Tab-delimited) or export an entire web site (HTML format) with the click of a button.
Report Options... See the Preferences area for all the options related to reports. To get help on these options simply hold your mouse over the option and a yellow help tag will appear after a second or two.